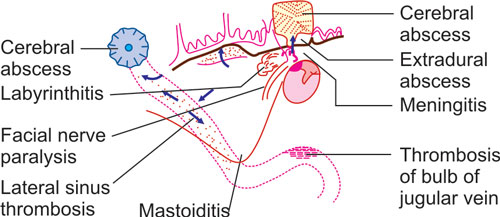 COMPLICATIONS OF CHRONIC SUPPURATIVE OTITIS MEDIA
Complications are usually seen in Active Squamosal type of COM with Cholesteatoma.
Mode of spread of infection:
Direct extension through the de-mineralized bone seen in cholesteatoma.
Blood borne spread via the veins, through bone and dura to venous sinuses, more common in acute infections. Lateral sinus thrombophlebitis causes spread of infection to the cerebellum.
Through round or oval window into the auditory meatus on the vestibular aqueducts.
Dehiscence of bony covering over the jugular bulb or the tegmen tympani.
Neoplastic or accidental bone erosion.
Through surgical defect in post Stapedotomy surgery.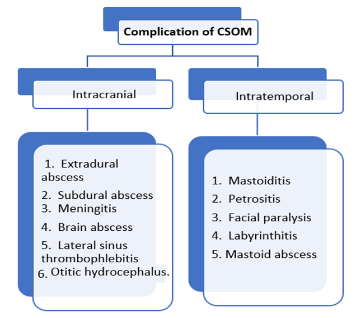 General symptoms of Intracranial complications are due to:
Symptoms due to the infection.
Compression of brain tissue.
Clinical features:
Headache.
Malaise.
Fever, drowsiness.
Neck rigidity with Kernig's sign positive.
Hemiplegia with cranial nerve symptoms.
Investigations:
Routine blood count, X-ray chest, ECG.
Pure Tone Audiometry- This is useful for a qualitative and quantitative analysis of the patients hearing. It also helps for pre-operative and post-operative assessment of the hearing loss and for medico-legal purposes.
X-ray mastoid Schuller's view: To diagnose the extent of the disease and status of the mastoid air cells, sinus plate, dural plate and sinodural angle.
HRCT temporal bone to know the extent of the disease any Intracranial infections.
Fundoscopy to rule out papilledema.
Lumber puncture for CSF examination.
Chronic suppurative otitis media treatment
Systemic antibiotics to control infection.
Mastoidectomy to remove ear infection and cholesteatoma.
Neurological opinion to manage the intracranial abscess.
Treatment of Intratemporal infection includes:
Systemic antibiotics to control infection.
Drainage of abscess.
Mastoidectomy to remove ear infection and cholesteatoma.
We Are Always Ready to Help You.
Book An Appointment