Definition: Slowly progressing non-reacting (hence white and cold instead of hyperaemic and hot) and low tension (so painless) abscess resulting from caseation is called cold abscess.

Tubercular cold abscess accounts for 15–20% of all cases of tuberculosis in India.
read more
Cold Abscess Pathology
Three stages:
Stage of lymphadenitis: Painless, mobile, discrete lymph nodes.
Stage of periadenitis: Mass of the matted node fixed to the skin.
Late stage: The node can undergo several changes by
Healing by fibrosis.
Caseation and liquefaction.
3. Cold abscess bursting either through deep fascia into subcutaneous tissue forming collar stud abscess or forming a sinus through skin.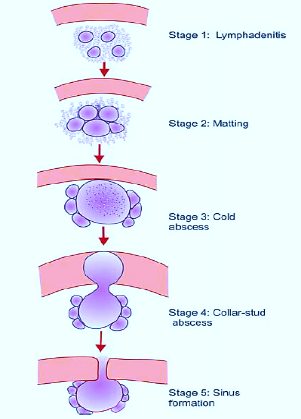 Cold Abscess Clinical features
History of softening following a pre-existing solid neck swelling.
Nodes mainly in the posterior triangle.
Absence of signs of inflammation.
Constitutional symptoms of tuberculosis like evening rise of temperature, anorexia, weight loss.
Secondary infection of the abscess.
Matted lymph nodes palpable on deeper aspect.
Aspiration reveals caseous material.
Tenderness of cervical spine may be present if bony involvement.
Cold Abscess Investigations
Complete blood count shows lymphocytosis.
ESR is raised.
Tuberculin test is positive.
X ray chest.
Acid fast bacilli identified by ziehl neelsen staining on aspirate of the abscess.
Mycobacterial culture.
Ultrasonography of neck swelling.
CT scan of neck swelling.
USG guided FNAC of the neck swelling.
CT guided FNAC of the neck swelling.

Treatment is similar to that for pulmonary disease. For the first two months, a regime of four drugs is used: Isoniazid 5 mg/kg, Rifampicin 10 mg/kg, Pyrazinamide 20 mg/kg, Ethambutol 25 mg/kg and Pyridoxine 10 mg once daily.
Thereafter, a three-weekly regime can be used for the next four or more months: Isoniazid 10 mg/kg, Rifampicin 10 mg/kg and Pyridoxine 10 mg once daily. 
The length of time for treatment has long been debated, with no firm consensus. The duration depends on the patient, the response to treatment, the risk of relapse and the site and tissue involved. With adequate treatment, clinical remission is practically 100%. It is recommended that people in close contact, such as family members, should undergo testing for TB, especially in the active infective phase.
There are numerous investigations to be taken prior to initiating anti-TB treatment. These include a full blood count, a urea and electrolytes test, uric acid analysis, liver function tests, HIV screening, chest X-ray and three sputum acid-fast bacillus smears (to ensure no pulmonary involvement). Visual acuity and fields should be documented prior to treatment.
We Are Always Ready to Help You.
Book An Appointment